Lightning conductors
What do we occupy ourselves with?
- we carry out installation of lightning conductors on all the objects according to the new standard of ČSN 62 305
- we carry out reconstructions of lightning conductors according to the standard of ČSN 34 13 90
- we provide complete protection against mechanical, heat and electromagnetic effects
- we carry out revisions of lightning conductors
Why should we decide to install a new lightning conductor?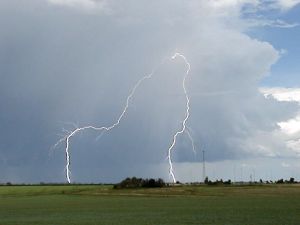 The answer to this question is simple. The protection of real estates is very important. It is mainly about your own safety. When functioning properly, the lightning conductor saves high financial amounts, it is thus our goal to always suggest the safest and most effective solution to you.
The time goes ahead with the speed of lightning and that is why we closely monitor the new trends in the field and work with new technologies. We include the latest products and materials in our offer every day.
We must not forget that an occasional revision of the lightning conductor is more than necessary! We offer even this service, we are able to repair various types of lightning conductors.
If you are an owner of a prefabricated house, an industrial object or other similar building, it is important to realize that according to a regulation you are obliged to prevent a real danger to life by placing a lightning conductor on the building. Our company guarantees you a high quality and a long lifetime of the conductors. Remember that your choice can influence lives of many people. High-quality installation and revision of lightning conductor guarantees the preservation of life and property. You are safe with us.
Where do we most often operate?
We will come to you throughout the Czech Republic! Within wiring we operate mainly in Prague. Specifically, Prague 1, Prague 5, Prague 6, Prague 7, Prague 13 and Prague 17.

Back to services
Use our services
Obtain approximate calculation